Small Business Quotes
Quoting in some industries has become a necessary part of doing business. Many small businesses world wide issue and request quotes on a daily basis.
The construction industry has for decades survived on providing general quotes when tendering. But certainly the issuing of quotations is not restricted to this industry, and in fact there are many business entities world wide where quoting for jobs has become the only way to obtain work and promote business activity.
More and more governments world wide are cashing in on sales tax, which involves the attaching of a tax to goods and services, EasyAs allows for this government cash cow to be added to your quotes if you need to.
Sales Tax has many different names but usually consists of a similar formula of adding a set percentage amount to goods sold or services provided. GST Canada, GST Australia, GST New Zealand, HST Canada, GST USA, VAT UK and the list goes on….
.
EasyAs Quotes
With our software you have the ability to produce professional looking quotes at the click of a button. You can even display your personal logo on your quotes.
The creation of a logo to be included on both invoices and quotations can actually help to promote the longevity of your business. It tells the person receiving the quote that this is a business that has been around long enough to have created their own logo, whether or not your business is a day old or 10 years old, a logo adds that professional appearance.
.
Below are a couple of samples of quotes
Towards the bottom of the screen you will find an example of a quotation for those countries or states that apply two forms of goods and services tax, this is true for some areas of Canada.
.
.
Sample of Quote with Top Logo
Sample of Quote with Small Logo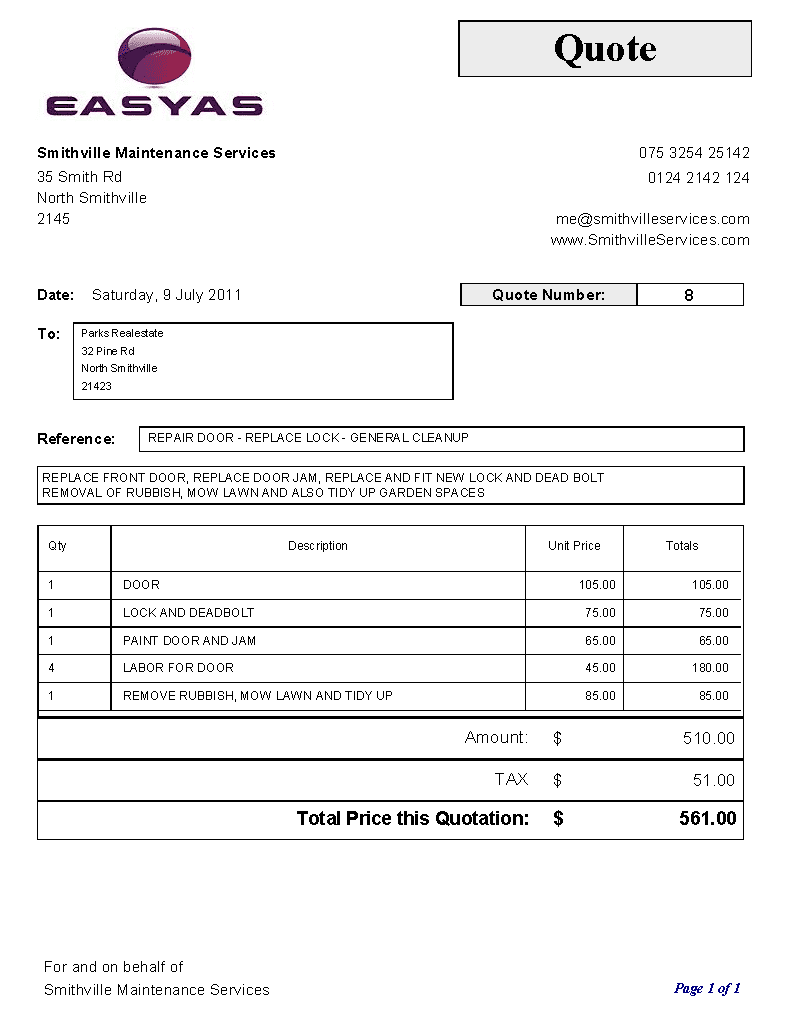 Sample Without A Logo and Showing Additional Tax
Which is appropriate in some regions of Canada